Ceres mounted planters
Potato planters
Description
Perfect bed preparation & ridging
AVR Ceres, are well known to be extremely reliable, precise and robust! The planting machine range consists of 2 to 4-row trailed planters. The cup planters are available with mechanic or hydraulic drive. A fertilizer tank can be fitted as an option. No matter your planting needs, AVR is sure to offer you the optimal solution.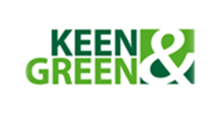 The ceres planter can be combined with a Multivator front cultivator and/or a Compact rear mounted cultivator to assure seed bed preparation and planing in one go.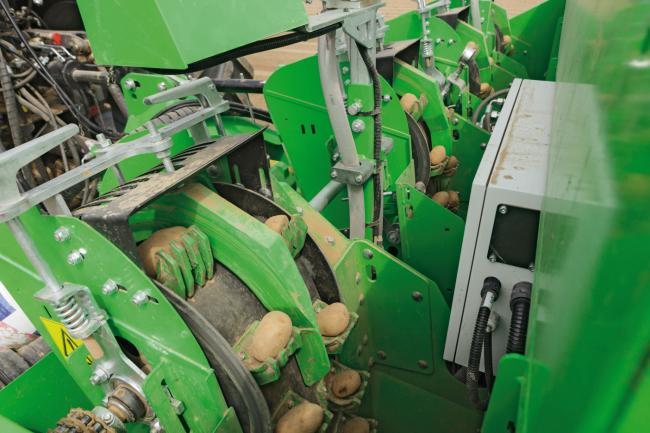 Ceres 400, accurate planting in less than no time
From start to finish, the Ceres series of planters was designed and produced in-house by the AVR team. Typical features include reliability, precision, user-friendliness and a perfect ridge formation.
The planting element is a model of precision and reliability. Two times 20 cups mounted on the cup belt ensure a continuous precision at high planting speeds. Also at higher driving speeds, the planter operates relatively calmly. The large upper drum ensures stillness at the top side, the small top roller at the bottom side, and the slightly tilted position of the planting element guarantees an accurate placement (also on inclines).
Ceres 440
The AVR Ceres 440 is based on the Ceres 400. It's a four-row mounted planter that is both available as a hydraulic and mechanical version.
With the Ceres 440, AVR purposefully opts for ISOBUS control and a row-independent hydraulic drive. A wide bunker ensures smooth loading.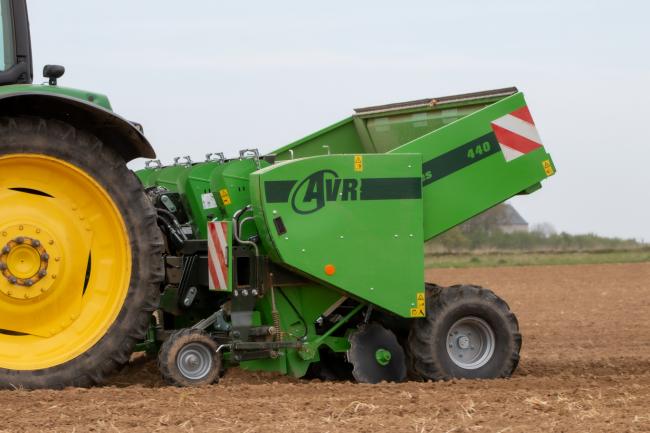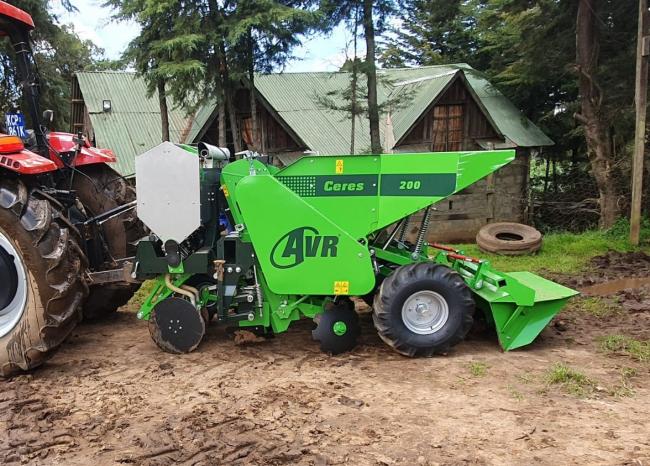 Ceres 200M
The Ceres 200M is a mechanically driven, two-row mounted planter.
The planting system is based on the same principle as used in the Ceres line, but in this machine it has been reduced to its simplest form. Available options are lighting, two types of fixed bunkers (750 kg and 1,300 kg), electrical agitators in the cup belt, a ridging hood and a fertilizer unit.
AVR Ceres 200H
The Ceres 200H is a two-row planter equipped with nearly all features its larger siblings have to offer.
If you are restricted to two-row planting after destoning, all functionalities of the four-row machines can be reduced to a two-row width. Like the M version, the Ceres 200H is two-row mounted planter, but in this case, the machine is driven fully hydraulically and comes with a comprehensive technology package and a larger bunker. This machine is designed for planting in preconstructed beds, i.e. mainly for situations where the soil is "destoned".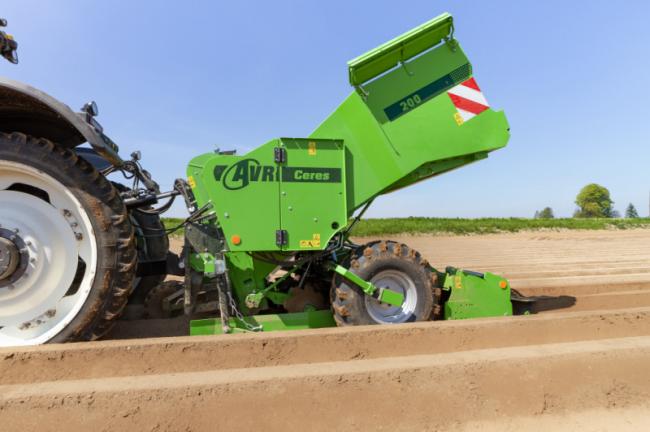 Specifications
Ceres mounted planters
Specification item
Strengths
Strengths information
Mechanical or hydraulic drive
Planting distance adjustable
Ridging hoods, discs or ploughs for ridge construction
Adjustable planting element
Fixed bunker or tipping bunker available (1.2 to 2 tons)
Mounting and adjusting speed of powdering unit, spray kit, granular applicator is possible
Specification item
Models
Ceres 400
Ceres 440
Ceres 200H
Ceres 200M
Number of rows
4
4
2
2
Bunker capacity (kg)
1.300-1.500 (optional)
1.500
1.300
600
Hydraulic tipping bunker capacity
1.900 - 2.100
1.900 (4x75)
2.000 (2x75)
-
Drive
Mechanical or hydraulic
Mechanical or hydraulic
Hydraulic
Mechanical chain drive
Inter row distance
4x75 - 4x80 - 4x85 - 4x90
4x75 - 4x80 - 4x85 - 4x90
2x70 - 2x75 - 2x80 - 2x85 - 2x90
2x70 - 2x75 - 2x80 - 2x85 - 2x90
Plant protect options
Granulate applicator - powder applicator - spaying kit
Granular applicator - powdering unit - spray kits
Granular applicator - powdering unit - spray kits
Granular applicator - powdering unit - spray kits
Specification item
Standard equipment
Standard equipment information
Ceres 200, mechanical drive
2 wheels (10.00/80-12), with tractor profile
Mechanic drive planting unit - chain transmission from rear axle
Parallelogram with fixed furrow openers, with 2 depth wheels
Movable floor, driven by planting element, 2 settings (can be disconnected per row)
Width adjustable covering discs, spring loaded (ø 450mm), scalloped discs
2 planting elements with large driving drum (ø 270mm), small pulley (ø 60mm), for precise planting at high speed
40 cups in each planting element (2 x 20) (ø 30-60mm)
Mechanically driven agitator on the cup belts
Fix hopper without side extensions (750 kg)
Ceres 200, hydraulic drive
2 wheels (11,5/80-15,3), with tractor profile

Hydraulic drive planting element (1 hydraulic motor)

Intuitive touchscreen for operation with hectare counter and detection of empty cups

Parallelogram with fixed furrow openers, with 2 depth wheels

Movable floor, driven by planting element, 2 settings (can be disconnected per row)

Width adjustable covering discs, spring loaded toothed discs (ø 450mm)

4 planting elements with large driving drum (ø 270mm), small pulley (ø 60mm), for precise planting at high speed

40 cups in each planting element (2 x 20) (ø 30-60mm)

Electric agitator on the cup belts, adjustable from the cab

Fix hopper without side extensions (1200 kg, width 2m10)

Hydraulic connections: p 1/2" m - t 1/2" m - ls 3/8" m

Road lights in accordance with country
Ceres 400, mechanical drive
4 Wheels (10.00/80-12), with tractor profile
Mechanic drive planting unit
Parallelogram with fixed furrow openers, with 2 depth wheels
Movable floor, driven by planting element, 2 settings (can be disconnected per row)
Width adjustable covering discs, spring loaded (Ø 450mm)
4 Planting elements with large driving drum (Ø 270mm), small pulley (Ø 60mm), for
precise planting at high speed
40 Cups in each planting element (2 x 20) (Ø 30-60mm)
Electric agitator on the cup belts, adjustable from the cab
Mechanical disconnection by single planting element
Fix hopper without side extensions (4x75: 1300 kg / 4x90: 1500 kg) 4x75 4x90
Road lights
Ceres 400, hydraulic drive
4 Wheels (10.00/80-12), with tractor profile
Hydraulic drive planting element (1 hydromotor)
Intuitive touchscreen for operation with hectare counter and detection of empty cups
Parallelogram with fixed furrow openers, with 2 depth wheels
Movable floor, driven by planting element, 2 settings (can be disconnected per row)
Width adjustable covering discs, spring loaded (Ø 450mm)
4 Planting elements with large driving drum (Ø 270mm), small pulley (Ø 60mm), for
precise planting at high speed
40 Cups in each planting element (2 x 20) (Ø 30-60mm)
Electric agitator on the cup belts, adjustable from the cab
Mechanical disconnection by single planting element
Fix hopper without side extensions (4x75: 1300 kg / 4x90: 1500 kg)
Road lights 4x75 4x90
Hydraulic connections: P 1/2" M - T 1/2" M - LS 3/8" M
Ceres 440, mechanical drive
4 wheels (10.00/80-12), tractor profile

Mechanically driven planting elements

Manual mechanic row stop system (1-2-3-4)

Parallelogram with fixed furrow openers, with 2 depth control wheels

Depth control wheels for soil openers adjustable via mortise-and-tenon connection

Movable floor in planting element funnel, driven by planting element, 2 settings

Width adjustable covering discs, spring-loaded, scalloped discs (ø 510mm)

4 planting elements, with large driving drum (ø 270mm), small pulley (ø 60mm), for precise planting at high speeds

Planting element mounted with 20° inclination for precise planting

40 cups in each planting element (2x20) (seeds ø 30-60mm) (green cup)

Electric agitator on the cup belts, adjustable from tractor cab

Mechanic fine tuning electric agitator per row

Fix bunker (width (4x75 = 3,2m) - capacity 1500 kg)

Road lights in accordance with country
Ceres 440, hydraulic drive
4 wheels (10.00/80-12), with tractor profile

Hydraulically driven planting elements (hydro motor per row)

Row stop system 1-2-3-4 (motors can be switched off per row)

Parallelogram with fixed furrow openers, with 2 depth wheels

Depth wheels adjustable by plug-in pin

Movable floor, driven by planting element, 2 settings (can be disconnected per row)

Width adjustable covering discs, spring loaded (ø 510mm), scalloped discs

4 planting elements with large driving drum (ø 270mm), small pulley (ø 60mm), for precise planting at high speed

Planting element with 20° slope for precise placement

40 cups per planting element (2 x 20) (ø 30-60mm) (green cups)

Planting distance 13-100 controlled via speed sensor in wheel and per planting element

Missing detection by sensors in wheel and planting elements

Electric agitator on the cup belts, adjustable from the cab

Mechanical fine-tuning electric vibrator per row

Fixed hopper (width 4x75 = 3,2m - content 1500 kg)

ISOBUS compatible

Minimum requirements for the terminal: - touch interface




- 480 x 480 pixel resolution




- iso vt level 3 ( = aef ut 2.0 )

Joystick functions (ISOBUS aux-n compatible): row stop 1-4; macro start / stop; if applicable: tipping bunker / markers / ridging hood / spray track system

Machine supplied with emergency stop box + joystick

Acre counter

Road lights in accordance with country

Hydraulic connections : p 1/2" m - t 1/2" m - ls 3/8" m
Specification item
Options
Options information
Furrow openers
Cup belts
Electric agitation system, adjustable
Fixed hopper (Ceres 400 mech.) or hydraulic hopper (Ceres 400 hydr.)
Crop protection: fertilizer and liquid products
Hydraulic markers (Ceres 400)
Anti erosion system (Ceres 400)
Joystick (Ceres 400 hydr.)
AVR Connect (Ceres 440)