Ceres trailed planters
Potato planters
Description
When planting potatoes, the main advantage of a trailed machine besides the weight distribution is the fact that the user can also combine the machine with tilling equipment, such as the specially designed AVR GE-Force C ridge cultivator, the basic AVR GE-Force and with other brands.
Your tractor also needs less lifting power!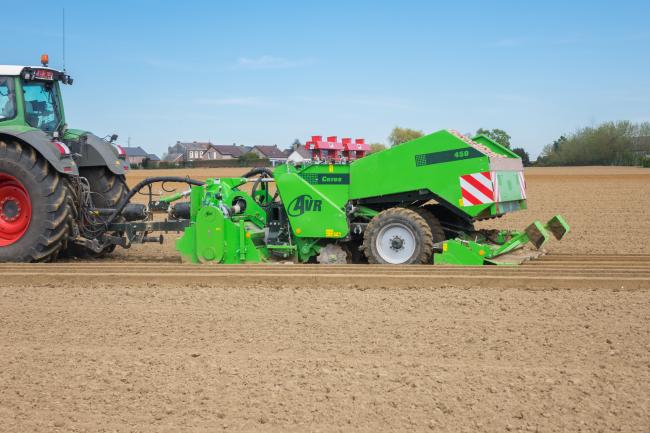 AVR Ceres 450
The Ceres 450 is a 4-row trailed potato planter with a hopper capacity of up to 3,500 kg (4x75 cm) or 4,000 kg (4x90 cm).
Each individual potato row assembly can be disconnected manually (electrical also available as an option).
The total wheel movement from left to right is 30° (+15°, -15°). The clever mechanical design ensures that the rotation axis always remains vertical, and that the wheels constantly remain in contact with the ground.
Culti Control Option
The Culti Control is a useful option. It ensures that the GE-Force C always maintains a constant cultivation depth, enabling the user to avoid double passes. The potato planting depth is always set independently.
Straight or round-sided ridges
To obtain a good ridge, it is vital to not only select the correct ridging hood, but also to set it correctly. The 4x75 version is therefore equipped with a narrow top ridging hood with round sides or a wide top hood (wear plates with special coating made from Boron 27) with straight sides. The 4x90 version is equipped with a wide top ridging hood (also made from Boron 27 wear plates) and straight sides.
The ridging hood is operated as standard by means of an automatic pressure control. The accumulator in the hydraulic circuit ensures that the hood is always kept under constant pressure. The user can also opt for the well-known PDC system (Proportionally Distance Controlled). This system uses two ultrasound sensors to measure the amount of soil in the hood. Based upon this input, the pressure on the hood is adjusted in order to maintain even ridging.
Specifications
Ceres trailed planters
Specification item
Strengths
Strengths information
Very robust machine
Fertilizer unit always available (capacity of 1.8 m³ (4-row)
Soil opener available in heavy duty version
Bunker capacity of 3.5 tons (4x75)
Specification item
Models
Ceres 450
Number of rows
4
Bunker capacity (kg)
3.500 (4x75) or 4.000 (4x90)
Drive
Hydraulical
Inter row distance (cm)
75/80/85/90
Plant protect options
Granular applicator - Powdering units - Spray kit
Specification item
Standard equipment
Standard equipment information
Ceres 450, hydraulical drive
4 Wheels 300/70R20
Hydraulic braked axles + handbrake
Steered axles (+/- 15 °) - left / right connected with tie rod
Drawbar hydraulic up / down - mechanical adjustment
Hydraulic jack foot under drawbar
Towing eye 50mm (2 positions)
Machine hydraulically up / down (wheels)
Hydraulic drive planting element (1 hydromotor)
4 Planting elements with large driving drum (Ø 270mm), small pulley (Ø 60mm), for precise planting at high speed
Planting distance adjustable per row (++ / -- versus reference value) e.g. in order to plant more closely next to spray track
40 Cups in each planting element (2 x 20) (Ø 30-60mm)
Movable floor, driven by planting element, 2 settings (can be disconnected per row)
Electric agitator on the cup belts, adjustable from the cab
Detection empty cups + hectare counter
Mechanical disconnection by single planting element
Parallelogram with fixed furrow openers, with 2 depth wheels
Width adjustable smooth covering discs, with scrapers, spring loaded (Ø 450mm)
Hydraulic hopper, capacity 3500 kg
Intuitive touchscreen for operation and joystick
Road lights + red and white striped plates
Specification item
Options
Options information
Ceres 450 hydraulical drive
Drawbar
Swan neck drawbar i.o std (mechanical jack)
Preparation for combination with GE Force C: drawbar with PTO
Valve block for control: full field plate / hydraulic hood cleaning / Cultiset
Ball coupling 80 mm instead of std.
Furrow openers
Single track erasers with stone protection
Double track erasers with stone protection
Scalloped covering discs Ø 450mm instead of standard
Wear parts in front of furrow openers
Planting element
Cups Ø 40-80mm instead of 30-60mm

Insert cups Ø 30-60mm for cups 40-80mm
Insert cups Ø 25-40mm for cups 30-60mm
4 Additional cup belts Ø 40-80mm
4 Additional cup belts Ø 30-60mm
Drive + hopper
Electric disconnection element for planting element on row 1 - 2 - 3 - 4
Automatic hopper with 1 ultrasonic sensor
Extension plates for bunker (easier to fill) (4x75) (widening to 2m85)
Ridging hood
Ridging hood with 3 sub soiling tines, 2 deflector tines right and left, High Speed parts spherical or straight (top 17,5cm), track erasers. Hydraulic pressure control with accumulator (and pressure gauge)
Ridging hood with 3 sub soiling tines, 2 deflector tines right and left, High Speed parts straight (top 22,5cm), track erasers. Hydraulic pressure control with accumulator (and pressure gauge)
Ridging ploughs, suspended in parallelogram, hydraulic pressure control, mechanical adjustable in depth and width
Lattice rollers (not without ridging ploughs)
PDC, Proportional Distance Control: automatic ridging hood/ridging ploughs control with 2 ultrasonic sensors
Hydraulic spray track tracer on ridging hood/ridging ploughs-lattice rollers
Comfort options:
9.0" TFT screen (up to 4 cameras)
Color camera with integrated LEDs for pure image, (per piece)
LED work lights: 2 pieces
General Options
Stabilising discs left and right from the machine for slope stabilising, hydraulically adjustable in height, spring mounted
CultiControl: angle sensor on drawbar and on full field plate GE-Force C in order to maintain the working depth
Hydraulic markers with discs
Crop protection / fertiliser
Granular applicator (touch screen controlled)
Powdering units with electrical drive
Motor for granular applicator + speed dependent flow rate (mounting of other granular or fertiliser applicator)
Spray kit device: 2 tanks of 300 L, quick hitch, pump, filter. Touch screen controlled: electric main valve on/off, four electrical sections on/off, pressure. Flow rate speed dependent.

Spray ready kit: 3 nozzles per row, hoses to the front of the potato planter
Spray ready kit: 2 nozzles per row, hoses to the front of the potato planter
Actuation peristaltic pump: flow rate speed dependent.

Actuation peristaltic pump 2: flow rate speed dependent.
GPS
GPS preparation in order to work with the GPS signal: controller and wiring harness. Control of electrical disconnection row 1,2,3,4: planting element, electric agitation system and spray nozzles, spray track (if options fitted). Please get in touch with your GPS supplier in order to see if you need any additional GPS module, section control not standard on GPS system!
Anti erosion system
Anti erosion system (fitted on ridging hood)
Hydraulic system consisting of 5 up and down moving paddles
Speed adjustable in Ceres touchscreen
Spring crumble tines in ridging hood
Frame adjustable in height
Hydraulic folding frame when not in use. Hydraulic shock absorber