Puma 3
Harvesters
Description
Spectacular performance, gentle potato treatment
The AVR Puma 3 demonstrates the series superiority on the market of self-propelled four-row harvesters. This hypermodern harvester is efficiency at its best and lifts harvesting to the next level with its large and flexible cleaning capacity, high maneuverability and maximum potato friendliness.
Ensure an optimal use of your Puma 3! The digging unit can be converted for harvesting carrots or picking up onions.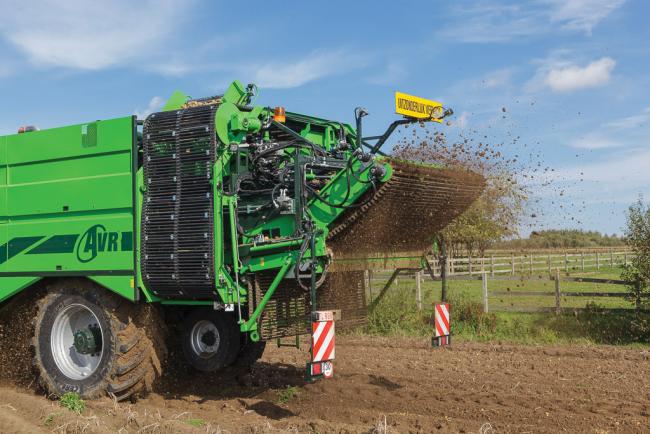 Impressive flexibility
The Puma 3 can optionally be fitted with the patented Varioweb module. This cleaning module is a combination of a pintlebelt and an axial roller set. The cleaning intensity can be adjusted continuously, and what's more, the axial roller set can even be removed from the potato flow if little cleaning is required. With the Varioweb, the user can adapt the cleaning level to suit the harvesting conditions.
Specification item
Technical details
Technical details information
Puma 3
Rows
4
Inter row distance (cm)
75 or 90
Dimensions (l x w x h in m)
15.45 x 3.5 x 4.0
Weight (kg)
23.500
Bunker capacity (tons)
8
Maximum discharge height
-
Power (hp)
469
Drive
Hydraulic
Offset/in-line
-
Specification item
Strengths
Strengths information
Instinctive: oscillating topper, automatically following the ridges, top any kind of haulm.
Smart: both four-row and two-row harvesting are possible.
Solid construction: compact, lightweight (23.500 kg), central chassis beam.
Precise: precise & ergonomic command with intuitive touchscreen, joystick and a quick-dial rotating button.
Sharp view: luxurious Claas cabin with automatic functions and excellent view of the harvesting process.
Powerful: 12,8 liter Stage IV Volvo engine that will never fail you (469hp or 1 hp per 50kg).
Gentle: extreme potato-friendly and high capacity elevator with active fingers.
Flexible: Varioweb cleaning module to

continuously

adjust t

he cleaning intensity, so you are

ready for all harvesting conditions.
Grand: gain time thanks to an eight ton bunker which can be unloaded while driving.
High maneuverability: wide wheel radius (50° in the front and 20° at the back).
Light footprint: low soil pressure because of large 'increased exibility' tires
Maximum intake: the harvesting channels are 1,450 mm wide (4x75 cm rows) or 1,550 mm for 4x90 cm. The pulled non-sticking plastic diabolos, pulled cutting discs and the large haulm intake rollers ensure an unfailing potato intake.
NEW! ACC option: choose the All Conditions Control digging unit if you want to opt to harvest with or without diabolos, depending on the circumstances. The ACC front-end is a single broad front-end, with 8 large (900 mm) driven disks. The diabolo can be hydraulically controlled from the cabin, to regulate the depth.
Webs information
2,400 mm digging web (x2): driven by means of pitchdependent PUR drive wheels for an increased lifespan and potato-friendliness
3,700 mm sieving web (x2): long sieving web, pitchdependent PUR drive wheels with three eccentric vibrators. This web is followed by the first haulm roller.
700 mm sieving web (x2): web with double profile rod (rubber rods with pintlebelt pro le underneath the retaining rollers). This web is followed by the second haulm roller.
1,100 mm full web (x2) for transport towards the Varioweb.
Varioweb (a combination of a pintlebelt and an axial roller set, in which the axial roller set can be slid continuously out of the product ow), cross roller set or trash web.
Elevator: heavy-duty rod web with active fingers and PVC cloth coated ights for a product-friendly potato transport.
Bunker filling belt towards bunker.
Bunker floor driven independently from elevator (8 ton bunker).
Elevator with three articulation points; rod web for a massive boost in sieving capacity.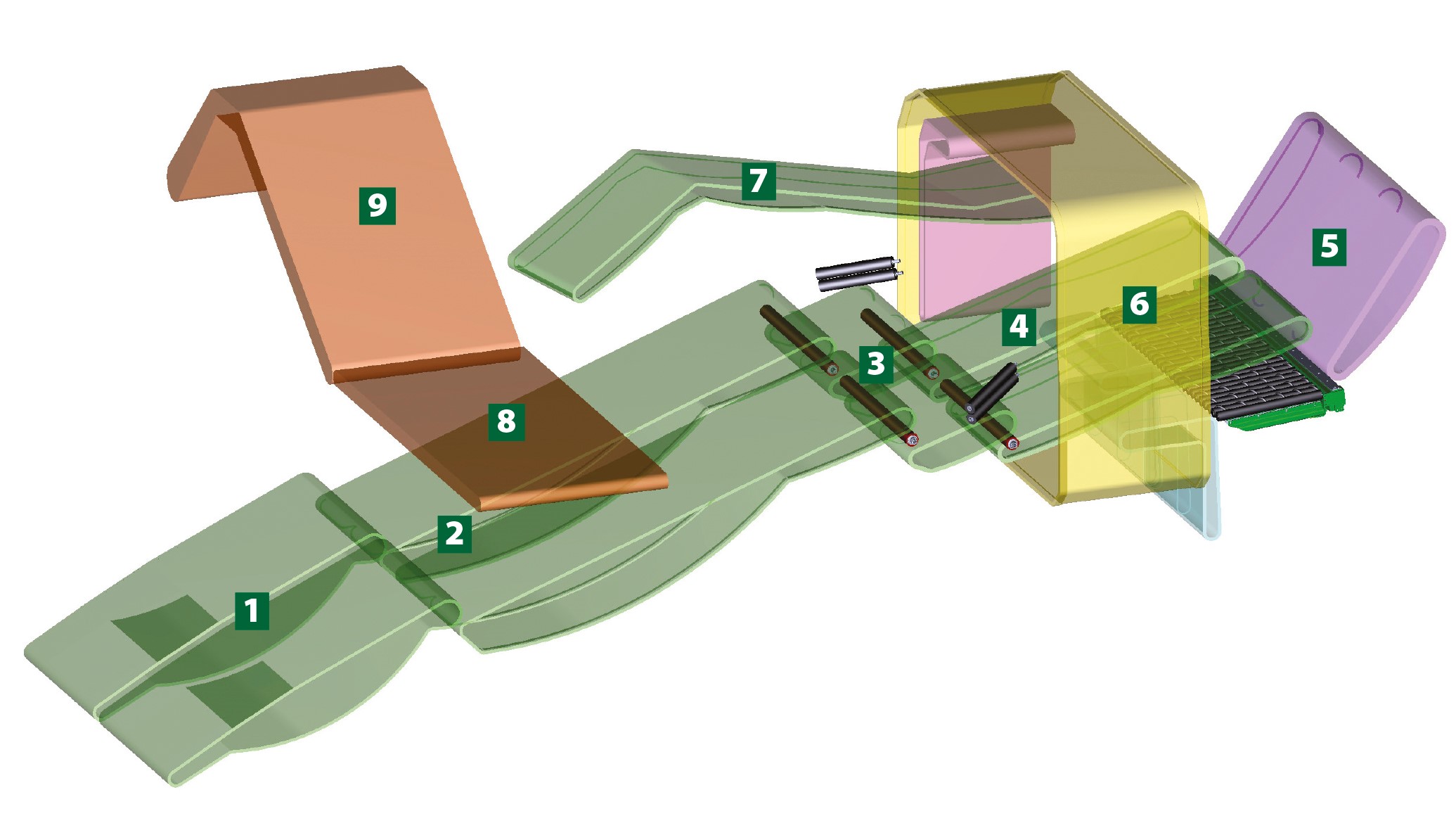 Specification item
Standard equipment
Standard equipment information
Haulm topper with lateral discharge
Stage IV engine (Volvo), 12.8l, 345 kW / 469 hp
Wheel radius front: 50° - back: 20°
Tire sizes front: 2x 300/95 R52 - back: 2x 900/60 R38
Side shift on front axle
Automatic hydraulic level control
Claas cabin with seat with air suspension, radio, heating, airco
Two independent, oscillating digging units
Electro-hydraulic counterpressure control
Four pulled, plastic diabolos
Eight pulled, spring-controlled discs
Two haulm intake rollers
Two short digging webs with PUR drive wheels
Two long sieving webs (universal drive) with three eccentric vibrators
Two rubberized sieving webs with double profile rod
2x2 haulm rollers
Varioweb (28 axial rollers + pintlebelt)
Elevator (1,200 mm) with rods, coated with thick star PVC
Picking-o table (900 mm) with top that can be automatically lowered into the bunker
Eight ton bunker with elevator (1,650 mm) for unloading while driving
Truckspot indication system
High power LED rear lights
Specification item
Options
Options information
Automatic depth control on the digging unit
Mud flaps
Adjustable front axle (2.8 -> 3 m and 3 m -> 3.6 m)
Hydraulically powered discs
Universal share holders with stone protection
Extra agitator in digging web
Automatic inclination correction pintlebelt/Varioweb
Cross roller set or solely pintlebelt instead of Varioweb
Electrically foldable and/or adjustable, heated mirrors
Central lubrication
Cameras and LED working lights
Compressor
Accessories for carrots or onions
All Conditions Control (ACC)
...