Spirit 9200
Harvesters
Description
Respect your potatoes
The Spirit 9200 takes 2-row offset bunker harvesters to a whole new level. Great flexibility, high capacity, comfortable harvesting. This is made possible by the hydraulic drive and the optionally mountable cross roller set. Naturally these innovations have all been developed in accordance with AVR's philosophy of potato friendly harvesting.
High cleaning capacity
A cross roller set can be mounted before the pintlebelts. This leads to a significant increase in the machine's cleaning capacity, without the need for additional direction changes to the potato flow. This is a unique concept! The cross rollers efficiently remove loose soil, small clods of earth and smaller stones from the product flow. Because of this, the pintlebelts can easily remove the remaining loose soil and haulm.
Specification item
Technical details
Technical details information
Spirit 9200
Rows
2
Inter row distance (cm)
75 or 90
Dimensions (l x w x h in m)
11.47 x 3.30 x 4.00
Weight (kg)
11,000
Bunker capacity (tons)
8
Maximum discharge height (m)
4.20
Required power (hp)
102 kW / 140 hp
Drive
Hydraulic
Offset/in-line
Offset
Oil flow (on 180 bar) (l/min)
60 (75 if WB option)
Specification item
Strengths
Strengths information
Fully hydraulically driven machine
Optional cross roller set:

Extra cleaning unit without extra direction change in the machine
Even spread on the rear pintlebelt

Optionally available WB bunker, 6.5 ton buffer and elevator with 3 articulation points -> capacity raise of at least 15%
Operation using joystick and a modern touchscreen
Large tires and optionally available left dual row crop wheel
Webs information
Digging web: 1,650 mm wide, driven by PUR drive wheels.
First sieving web, universal drive, with new agitator type.
Instead of 1-2 one long sieving web, 1-2 can be used.
Second sieving web, under haulm web, universal drive, minimal inclination.
Haulm web, larger haulm/potato separation space compared to existing Spirit models.
Third sieving web or cross roller set.
In-line pintle belt with retaining rollers
Transversal pintle belt with 3-row rotary comb, 2x2-row rotary comb, or retaining roller set or brushes.
Clod belt.
Picking-off table (90 cm wide).
Picking-off table with swan neck to 8 ton bunker.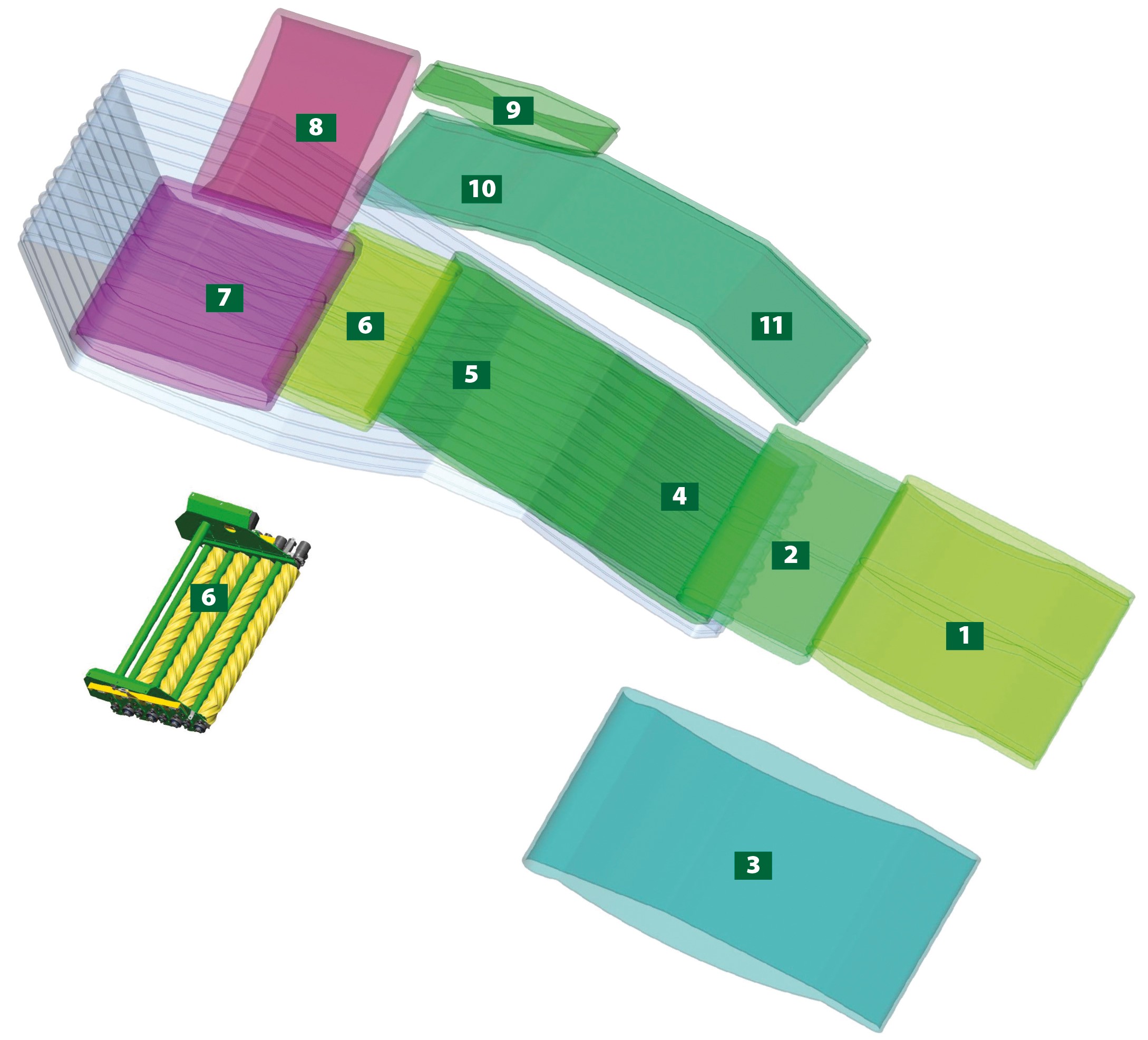 Specification item
Standard equipment
Standard equipment information
PTO drive shaft 1,000 rpm
fully hydraulically driven machine
independent hydraulic system with 3 pumps
wheels 850/50-30.5
hydraulic steering wheels (+/- 24°) with auto reset
hydraulic land levelling
automatic lane adjustment (drawbar control)
swinging digging unit
4 pulled, spring loaded discs
2 pulled, plastic diabolo rollers
2 large haulm intake rollers (400 mm)
pressure control on digging unit with accumulator
digging web with PUR drive
hydraulically driven agitator
electro-hydraulic angle adjustment of pintlebelts
3-row rotary comb
picking-off table for 4 persons (900 mm wide) with control box
discharge belt with room for 2 extra persons
command via CAN Bus system, with joystick and touchscreen in tractor
spacious 8 ton bunker with double bunker lift
quick-change digging unit
Specification item
Options
Options information
ACC digging unit (All Conditions Control)
cross roller set before pintlebelts (instead of sieving web)
retaining rollers or 2 x 2 rows rotary comb or brushes
dual row crop wheel (14.9 R 38)
long sieving web instead of digging web + short sieving web
universal share holder with stone protection
extra disc on the outer right side
fallbreaker box (crate filling) (hydr./mech.)
automatic land levelling
electro-hydraulic counterpressure control
automatic swan neck picking-off table
electrical adjustment of rotary comb
pintlebelt boost
cameras
onion picking unit
carrot unit with torpedoes
automatic sliding of bunker floor
stone box under picking-off table
half diabolos for bed harvest
hectare counter
sun canopy