Esprit
Harvesters
Description
A harvester with character
The Esprit features a number of sophisticated solutions that avoid a lot of harvesting issues. In addition, the Esprit harvester has an advanced elevator with active side walls and the machine is completely modular in assembly.
KEEN & GREEN:
Less damage thanks to a lower fall height.
Less damage thanks to less contact with metal.
Higher filling factor.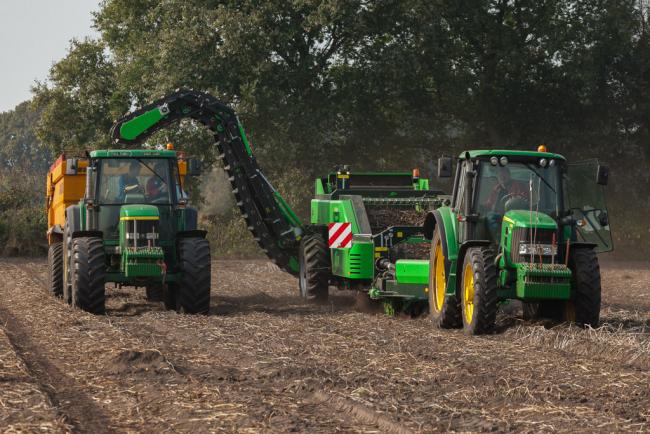 Benefits of offset harvesting
In certain circumstances, the drawbar can simply be moved hydraulically which results in an off-set harvester. Subsequently, the tractor can be equipped with wider tires. The benefits become clear very quickly:
more traction and less tracking depth due to the wide tires,
the ridges are no longer damaged due to the fact that the tractor no longer drives through it,
the soil is no longer compacted by the harvester so that the sievability remains intact.
The steering problem that would occur because the tractor has to drive next to the ridges is solved by the automatic steering system that takes over control completely. The machine can be controlled and operated perfectly without jeopardizing the ergonomics.
Specification item
Technical details
Technical details information
| | |
| --- | --- |
| | Esprit |
| Rows | 2 |
| Inter row distance (cm) | 75 or 90 |
| Dimensions (l x w x h in m) | 9.00 x 3.30 x 3.80 |
| Weight (kg) | from 6.250 |
| Bunker capacity (tons) | no bunker |
| Maximum discharge height (m) | from 0 to 3.8 |
| Required power (hp) | - |
| Drive | Mechanic |
| Offset/in-line | Offset & in-line |
| Oil flow (on 180 bar) (l/min) | 50 |
Specification item
Strengths
Strengths information
Both in-line and offset harvesting.
Open construction.
1.65 m wide channel.
Operation by means of a structured display and joystick (can-bus system).
Modular construction: pintlebelt, axial rollers, cross rollers, haulm web, haulm rollers -> countless possibilities
Elevator divided into feed conveyor and elevator itself for gradual direction changes and easy open harvesting.
Elevator equipped with movable sideplates for potato-friendly harvesting.
Specification item
Modular
Modular information
Digging web (G)
The Esprit can be equipped with numerous cleaning units. It starts with the choice between a digging or sieving web. A digging web creates a substantial increase in sieving capacity. However, in very light soils, it may be desirable to keep soil in the machine. Then, it is better you opt for a long sieving web.
Haulm web (MC) or Haulm roller (RE)
For haulm removal, you can choose between a haulm web or haulm roles. Depending on whether you want to harvest in green haulm, or if you want to top haulm or not.
Pintle Belt (TT) / Cross Rollers (CR) / Axial rollers (RTi)
In terms of the type of cleaning, you have the choice between a pintle belt, axial rollers or a cross roll set. For the largest capacity in loose soil and fine haulm, choose the pintle belt. If there are also clods and stones present, then the CR-module might be the solution. For heavier soil types and harvesting in wet conditions, axial rollers are a suitable solution.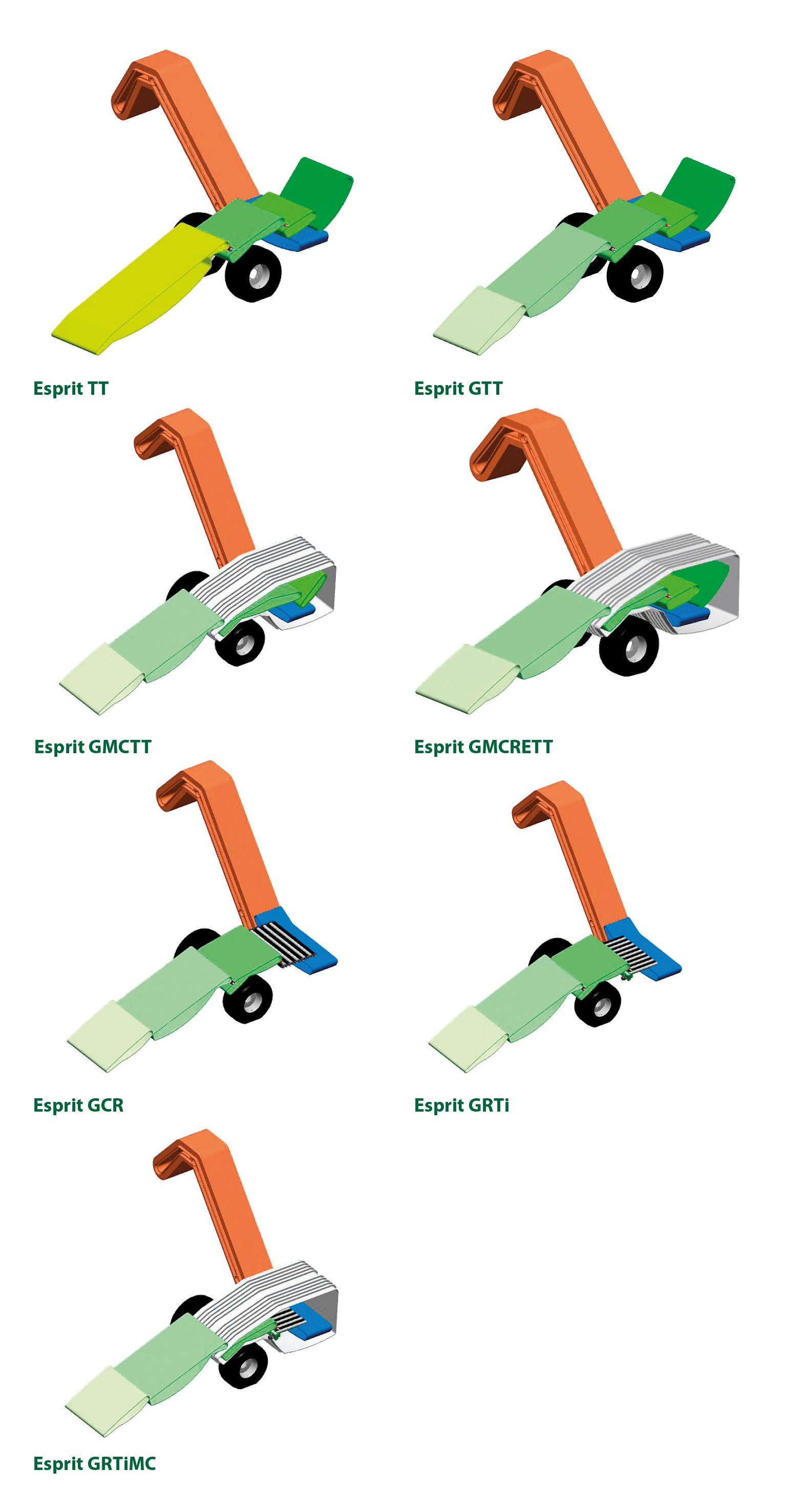 Specification item
Standard equipment
Standard equipment information
control box and joystick
possibility for in-line and off-set driving, interchangeable via hydraulics
swinging digging unit
plastic diabolos, spring discs
hydraulic land leveling, drawbar control and wheel control
pressure relief with battery and manometer
3-speed gear box on main webs
two-part car transporter with variable speed, active side walls, quality-friendly paneling without rods, 900 mm wide
haulm removal without haulm fall
Specification item
Options
Options information
automatic control via drawbar during off-set driving
choice between one long main web or a digging web and main web
own hydraulic system to drive agitators, axial rollers or pintle belt
onion picking unit
hydrostatic wheel drive
automatic leveling
cameras